This time we get to read about Harrison Boyce.
Who is a designer at Macneil Bikes.
He talks about his mindset about work.
Harrison Boyce Introduction
Harrison is a very creative and talented guy who does all Macneil's design work.
Also he rides for Macneil. So he is a rider full of creativity.
For details please read his interview below.
The video below is about a activity that Harrison teachs how fun to play with stencils.
It is wonderful to teach kids that fun things might turn into work.

Nike MAKE SOMETHING workshop with HARRISON BOYCE from Glenn PP Milligan on Vimeo.
Harrison Boyce and I
I've never met Harrison but I also ride for Macneil , so we get to e-mail often and I always see his creative work.
So I feel like we are teammates which is nice.
Harrison Boyce Interview
Please introduce yourself and tell us how long you have been ridden and what do you do.
My name is Harrison Boyce, I grew up in Seattle, Washington, but have been living in Vancouver, Canada for the past two years.
I've been riding my bike for about 13 years and over the past six years I've spend most of my time designing stuff...
Could you please tell me about what education you took. Did you study design or something?
Yeah, I studied Graphic Design at a College in Seattle.
The school wasn't the best, but I was able to get a lot out of it and I really feel it helped me grow a lot as a designer.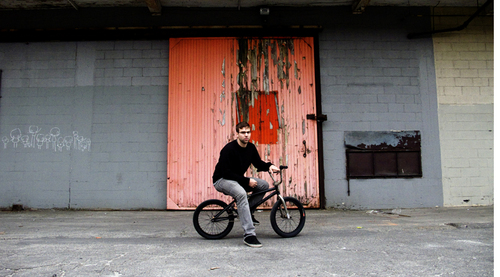 click for bigger image
I know you do the whole design work for Macneil. Also do a lot of creative work at Defgrip. Could you please explain what do you do at Macneil and Defgrip?
For MacNeil, I'm the Art Director, and I'm in charge of everything design and marketing wise for the brand.
I design, build and manage the website. I created all the bike graphics, chose colors, design the packaging, sticker, ads, clothing... Basically anything you see MacNeil, I've designed it.
I also work really closely with Jay and Darcy on all the big decisions for the brand, as far as what products we want to make, who we want on our team, etc... It's pretty rad to be so involved with an awesome brand and have complete control over all the designs.
Defgrip is a project I started a few years back.
I do all the design and web work and get help with the content from a few really good friends.
It's basically the project I do for fun.
So, for example, I built the whole backend using Wordpress for the main site, then I create all the features using Flash.
I'm in the processes of trying to work with someone to create a whole updateable backend where all the contributors can just upload content like a basic blog.
Hopefully I'm able to work that out soon because I'm super busy, so a lot of really good features sit in my inbox for weeks before I have time to put them on the site.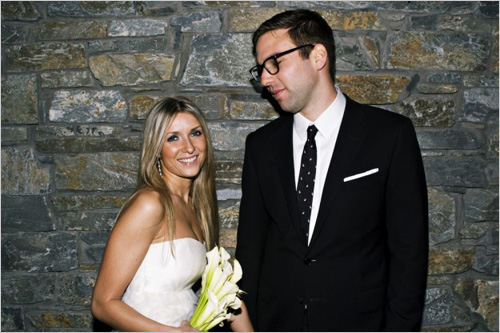 What is your recent work at Macneil and Defgrip?
The biggest stuff at MacNeil would be all the new frames that are coming out soon.
I worked on all new colors and stickers for all the bikes, So, I'm psyched to see them come out!
We are working on new clothing right now, just a few t-shirts and some hats.
And the cruisers have been a blast!
For Defgrip. I have been working on some new t-shirts and just trying to find the time do a frontend facelift to the site.
Just like new fonts, colors and a new header...
I am super picky about my own projects and I think I over obsess and never make any progres...
Rather than just finding a design I like and working on that, I'll work on one design for a few days, then somehow start a completely different layout and stuff and I'll never move forward...
What's the good point doing your business? Point out 3 please.(More than 3 is super OK)
1. With the economy taking a dive and a lot of people loosing jobs, I fell very good about my job security because I've spread my self out with a wide range of skills and have not put my self in a place where I feel I could get stuck and not get any work.
If print totally dies, I can just do web projects, or if photography budgets get totally slashed, I can work on video project.
2. I love being creative and having the freedom to be my own boss...
Even though Jay is "really" my boss at MacNeil, he has a lot of trust in me and let's me do what I want.
I like being relaxed, wearing what I want to work, taking time off when I need, etc...
I work hard, but I guess I just really like being on my own schedule.
3. Traveling. With MacNeil I get to travel a lot.
I'm actually sitting on a plane right now, on my way to LA.
I've been able to go all over the world the past few years with the MacNeil team and it's been amazing.
I take photos, shoot video, and update the website on trips.
It's always a lot of work, but I love the work that I do, so I always have a blast!
4. Meeting great people.
There's so many people in the world doing amazing things and with the internet, you are able to connect with everyone.
Please tell me about some hard times during running your business.
Hardest times for me are when I get over worked and have to be creative when I'm super tired or just over doing design.
It's hard to just turn on a switch and come up with amazing ideas.
It doesn't happen that much, but when I have a few hours to do a project and I'm not feeling inspired or creative at all, that's the worst!
I also have hard times when I'm working on complicated web projects.
I'm more of a front end type of guy, so we I have to mess with all the complicated php, or database driven stuff I just go nuts.
It's really rewarding when you do it right, but if something goes wrong,
I don't know enough to quickly go over my code and figure out my problem...
I've wasted many hours staring at code...
As soon as I get more jobs, I want to hire someone to do all my coding, so I can just be creative all the time and not mess with that stuff!!
What motivates you to keep running your business even going through hard times.
I'm really driven to produce good work and I'll push through hard times, so I can deliver something I'm proud of.
I've been lucky to where financially I haven not had hard times yet and I've had a nice steady stream of jobs, but I think if my jobs slowed down.
I would just focus on working on personal projects to promote my work.
Doing art and stuff like that...
You are a good rider and a good designer. You have 2 talents and there collaborate pretty good together. I don't really see a lot of rider like you. I think this is one nice lifestyle as a rider.
From my point of view it's awesome that you contribute to the BMX scene with you creative skills and ability.
Thanks so much!
It's rad to have BMX in my life because, I guess as an addition to the last question, If I'm feeling un-inspired and just need to get away from my work, BMX is an amazing outlet.
A good day riding bikes with your friends can be so inspiring and really help when it comes to getting work done.
I don't think I'd be where I am with out BMX...
It's pretty much the reason I got into design.
I've seen interviews at Defgrip. Is there anything that you you want to express at Defgrip?
With Defgrip, I just started it, to show the BMX world what else is out there.
Give them some culture and hopefully inspire some people.
At the same time, I wanted there to be a pace for people in the outside world to go where they could see some BMX and get psyched!
My impression
What I felt from Harrison's interview is , he does his work with pride.
I don't think his work is easy and light.
I imagine every single time he works with his 100% - 120% power.
BMX is one of the fact to suport and/or express himself.
I surmise his ability/power is the 2 below.
1. Creative thinking power.
2. Expressing power the creativity that he thought.
I felt Harrison really stands on his feet and I do respect that.
I'm looking forward to seeing his future works ,ridings and challenges.
Related Website
defgrip
MacNeil BMX
Other Riders Interviews
関連記事