Mat Hoffman is one of the most innovative rider in the BMX history.
Not only as a rider but also as a business man.
Luckyly he answered my questions.
So I'd like to discover some hints what is the core essense of his success as a rider and a business man.
For who doesn't know Mat Hoffman I will write a brief intro about him.
About Mat Hoffman
Mat Hoffman as a BMX rider
He made uncountable tricks and won trillions of contests.
He won Expert vert at 14. After that he appears a lot in BMX magazines.
He turn pro when he was 17 and won the first contest.
That is the beginning of his super conquered riding histroy.
Mat Hoffman as a business man
1992. He start his own bike company "Hoffman Bikes" and now it is one of the biggest BMX company in the world.
Contest series. He started Bicycle Stunt(BS) contest series.
That evolves to BMX contest in X-GAMES.
1991 Hoffman Promotion starts. A company produces events & shows.
Later it evoles to HSA.
Mat Hoffman and I
Mat Hoffman & Jay Miron came to Japan at 1994.
That was the first time I met him.
Later I went to America for contests. I met him.
Gladly Mat remembered me and I get to talk and e-mail him sometimes.
Mat and I have lot of injury experience. So once I asked him for an advise for injured knee.
This time I asked him for this interview and I deeply appreciate that he replied me.
There's more historical infomation about Mat Hoffman at 23 mag
Mat Hoffman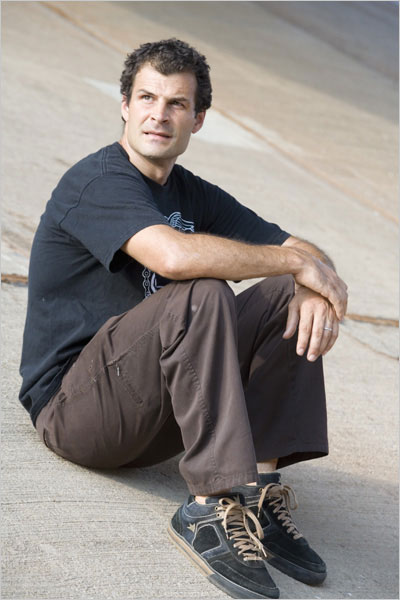 Mat Hoffman Interview
Please introduce yourself and tell us what you have accoumplished with BMX.
My name is Mat Hoffman and I¹ve accomplished my ever-evolving dream through
BMX. I do shows, produce shows, make bikes and accessories, organize big
and small contests and help guide the sport with it¹s best authentic
interests in mind.
What made you start your business besides riding BMX as a professional
rider.
When I ride I like to push it so hard I have to trust my life with what I
put under my feet. I saw our sport being pushed further than the equipment
could handle and the larger companies not keeping up with the progression.
So to lessen my trips to the hospital because of equipment failure I started
to design my own bike I knew I could trust. This was at a time the sport was
going through a recession and so there was no money to be made and there
were no competitions or events happening to give the riders a place to come
and celebrate BMX, so I started a contest series called the BS series. I
started my show operations as my final ingredients to try to get our world
out in front of the rest of the world in order to recruit a new generation
of BMXers. This way I used my shows to grab kids attention, my bikes to get
them into riding and my contest series to make them a part of our scene.
What's the good point doing your business? Point out 3 please.
independence
the opportunity to turn you play into work
you make your own hours
you make your own rules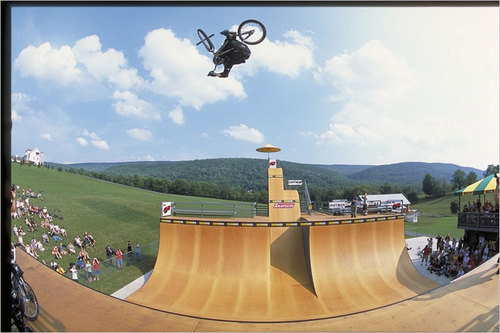 Click for bigger image
Please tell me about some hard times during running your business.
I learn from my failures, so I came from the school of hard knocks. I run
my business the same fashion I ride. I go big and hit hard. I¹m surprised
my business is still alive. The stories I could tell would write another
book.
What motivates you to keep running your business even going through hard
times.
If you want to experience the pleasure and success in life you have to be
willing and able to take the failures and pain. Life isn¹t easy ­ pick your
pain.
Any messages to the readers who ride BMX and dreaming to be a pro.
Do it for the fun ­ keep true to the values of our sport that isn¹t
monetary.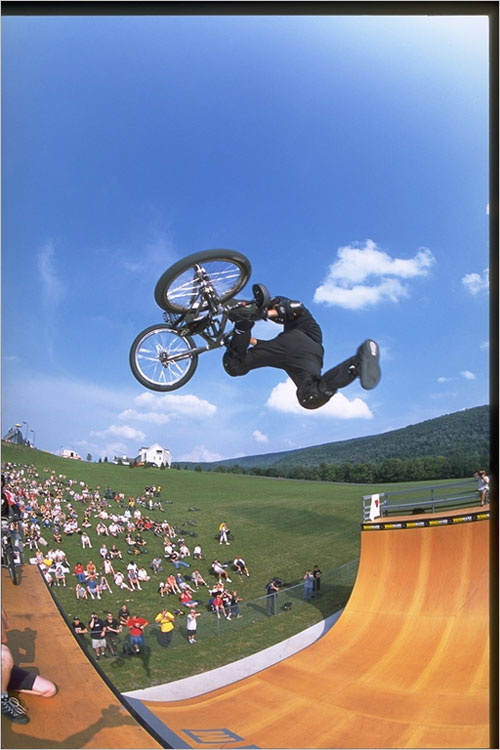 My impression
Mat and I are the same age, but there's a whole lotta diffrence between each others accoumplishments.
Businesses he made are wonderful and they spreads on the value chain
I don't know if Mat thinks about the value chain. but he thinks and did what he think it is needed and what he can do.
I surpose the love to BMX made him do all.
Several years ago when I went to USA, I heard a rumor Hoffman Bikes went into the red.
I don't care if it was true or not and not a big deal.
With Mat's huge passion and toughness anything can be done.
His strong mental power will not be defeated easily.
Not only that his charming personality brings people together.
Mat has given a huge impact to the BMX scene.
I don't know if I can give some huge impact ,but at least we can wish and try.
Related Link
Hoffman Bikes
Mat Hoffman Journal